MCQ on Important Daily Current Affairs of 2nd December 2021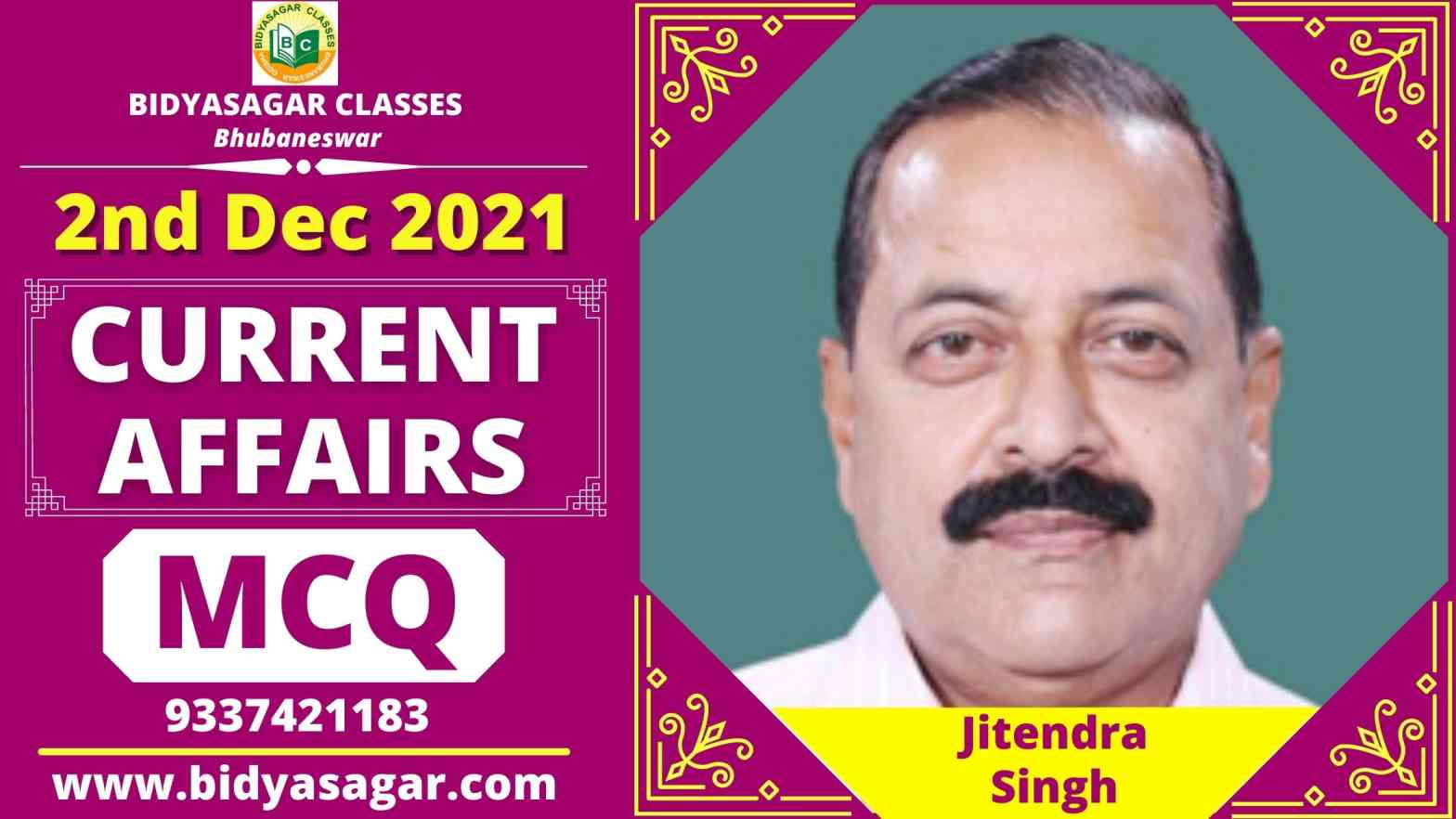 In this article, we will discuss MCQ on important current affairs of 2nd December 2021 and their answers with explanations.
---
QUESTIONS
---
1. When is Cyclone Jawad likely to hit Andhra Pradesh and Odisha?
a) December 4th
b) December 10th
c) December 15th
d) December 20th
2. When is National Pollution Control Day observed?
a) December 1st
b) December 2nd
c) December 3rd
d) December 4th
3. Home Minister laid the foundation stone of Maa Shakumbhari Vishwavidyalaya in which city?
a) Saharanpur
b) Sonipat
c) Lucknow
d) Ayodhya
4. Who has been awarded Woman of the Year by World Athletics?
a) PT Usha
b) Anju Bobby George
c) Dutee Chand
d) Hima Das
5. Which nation's nominal GDP is likely to contract by 20 percent within a year, according to UNDP?
a) Iran
b) Pakistan
c) Afghanistan
d) North Korea
6. India is scheduled to sign a deal to procure around 7.5 lakh AK-203 assault rifles with which nation?
a) Russia
b) Germany
c) France
d) United States
7. Women's Tennis Association has suspended all its tournaments in which nation?
a) China
b) South Korea
c) Indonesia
d) South Africa
8. Which among the following players has been released by his franchise?
a) KL Rahul
b) Rishabh Pant
c) Mayank Agarwal
d) Sanju Samson
9. Skyroute Aerospace has recently test-fired India's first privately built cryogenic rocket engine of which name?
a) Science -1
b) Runner -1
c) Dhawan -1
d) Security -1
10. Which city has topped the list of world's most expensive cities released by the Economist Intelligence Unit of London?
a) Tokyo
b) Mumbai
c) New York
d) Tel Aviv
11. Indian-origin Parag Agarwal has been recently appointed as the CEO of which company?
a) Facebook
b) Twitter
c) Microsoft
d) Google
12. Name the Minister of State for Personnel, who has recently launched "unique" face recognition technology for pensioners?
a) Ajay Singh
b) Rajnath Singh
c) Hardeep Singh Puri
d) Jitendra Singh
13. Which city has organized the famous Cherry Blossom Festival in Meghalaya?
a) Joy
b) Shillong
c) Tura
d) Nongfo
14. Which of the following state government has recently released Rs.686 crore for Vidya Deevena Yojana?
a) Government of Kerala
b) Government of Punjab
c) Government of Bihar
d) Government of Andhra Pradesh
15. International Telecommunication Union and which department has recently launched India-ITU Joint Cyberdrill 2021?
a) Education department
b) Railway Department
c) NITI Aayog
d) Department of Telecommunications
---
ANSWERS
---
1. A
A cyclonic storm, named Cyclone Jawad is expected to hit Andhra Pradesh, Odisha and West Bengal by December 4, 2021. A low-pressure area over central parts of the Andaman Sea is likely to intensify into a cyclonic storm over central parts of the Bay of Bengal during the subsequent 24 hours, as per India Meteorological Department.
2. B
National Pollution Control Day is observed annually in India on December 2 in memory of the people who lost their lives in the 1984 Bhopal Gas Tragedy. The Bhopal disaster was a gas leak incident at the Union Carbide India Limited (UCIL) pesticide plant on December 2-3, 1984, which killed thousands of people. It is considered among the worst industrial disasters in the world. The National Pollution Prevention Day works towards spreading awareness regarding the pollution caused by industrial processes and industrial disasters.
3. A
Union Minister of Home Affairs and Cooperation Amit Shah laid the foundation stone of Maa Shakumbhari Vishwavidyalaya on December 2, 2021 in Saharanpur, Uttar Pradesh. The news comes just months ahead of the Uttar Pradesh Assembly elections in 2022.
4. B
World Athletics has awarded sprinter Anju Bobby George as 'Woman of the Year' for her efforts in advancing the sport in India. Anju Bobby George is a former international long jump star, who is still actively involved in the sport.
5. C
Afghanistan's nominal GDP is likely to contract by 20 percent from USD 20 billion in 2020 to USD 16 billion within just one year, as per United Nations Development Programme (UNDP) on December 1, 2021. The decline may reach 30 percent in the following years if urgent corrective measures are not taken, according to a new socio-economic report.
6. A
India and Russia are scheduled to sign a deal on supplying 7.5 lakh AK-203 assault rifles on December 6, 2021, during Russian President Vladimir Putin's visit to India. The deal would provide a major boost to India and Russia military ties. All the necessary approvals have already been accorded to the deal including a final go-ahead from the Cabinet Committee on Security.
7. A
The Women's Tennis Association (WTA) has announced the suspension of all its tournaments in China after concern over Chinese Tennis player Peng Shuai's safety. The WTA has been involved in a tussle with the Chinese government over the player's well-being in the last few weeks after she had posted a sexual assault allegation against a top Chinese government official on November 2nd.
8. A
The Punjab Kings retained two players including Mayank Agarwal and uncapped Arshdeep Singh and had to let go of skipper KL Rahul and key players including Chris Gayle during the IPL 2022 Retention. Punjab Kings head coach Anil Kumble clarified while announcing the names of retained players that they had wanted to retain KL Rahul but he decided to go into the auction and they respect his decision.
9. C
Skyroute Aerospace recently demonstrated the high stage of its Vikram-2 launch vehicle, India's first privately operated vehicle named Dhawan-1. Manufactured cryogenic rocket engine is tested. This cryogenic rocket engine is 100% 3D printed and 100% manufactured in India. It is named after Satish Dhawan, the third chairman of ISRO.
10. D
Tel Aviv, the city of Israel, has been ranked first in the list of world's most expensive cities released by the Economist Intelligence Unit of London. Rising inflation in this city has increased the expenditure of the people globally. Tel Aviv's national currency, the shekel, strengthened against the dollar, coupled with a rise in the prices of transportation and groceries.
11. B
Indian-origin Parag Agarwal has been recently appointed as the CEO of social media company Twitter. He has replaced Jack Dorsey. Parag Agarwal did his B.Tech from IIT Bombay. Later he went to the US to study, in the year 2017 he started working as Chief Technology Officer at Twitter.
12. D
Minister of State for Personnel Jitendra Singh has recently launched a "unique" face recognition technology for pensioners. Which will act as a proof of life certificate for pensioners. This will ensure ease of living for retired and elderly citizens.
13. B
Recently a three-day famous Cherry Blossom Festival has been organized in Shillong in Meghalaya. It was inaugurated by Meghalaya Chief Minister Conrad Sangma and Satoshi Suzuki, who is the Ambassador of Japan to India. The cherry blossom is the flower of several trees of the genus Prunus or Prunus cerasus, also known as Japanese cherry and sakura.
14. D
Government of Andhra Pradesh recently released Rs.686 crore as third installment for Vidya Deevena Yojana under an education assistance scheme recently. Have done The scheme gives scholarships to students who are not able to pay their college fees.
15. D
Which cyberdrill is important for Indian entities especially critical network infrastructure operators. Also Telecom Secretary Shri K. Rajaraman stresses the need to work towards developing a reliable manufacturing base and reliable supply chain.
---
---
Bidyasagar Classes Address
Plot No-N-6-325, Biju Patnaik College Road,  Infront of SBI, Jayadev Vihar, Bhubaneswar
Website: www.bidyasagar.com
Opening and closing hours: Monday to Sunday :7AM-9PM
e-Mail : bidyasagar.classes@gmail.com
Contact No. : 8917265768; 9337421183, 8093021183