Top SSC/ASO Coaching Center of Odisha Bhubaneswar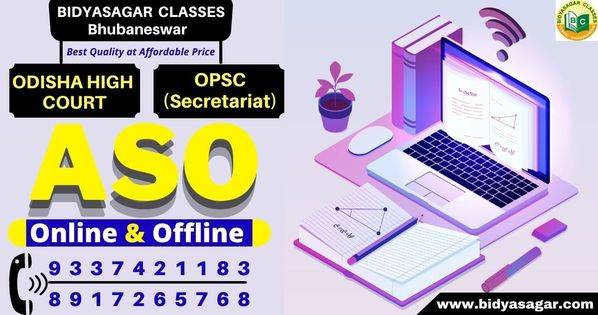 SSC COACHING IN Bhubaneswar
New Batch starts on 6th June
For Admission plz contact 9337421193 8917265768
https://www.bidyasagar.com/m-ed-entrance-coaching-in-bhubaneswar
SSC exams are taken by thousands of candidates every year who aspire to get a government job. However, only a few of them are able to achieve their goal because of the tough competition. If you wish to be one of those few people, you can fulfill your dreams with Bidyasagar Classes by getting the best SSC coaching.
About Bidyasagar Classes
Bidyasagar Classes is a well-known institute for the best SSC coaching in Bhubaneswar. Under the guidance of our founder and director Mr.Pradeep Kumar Mahapatra, we offer a wide range of courses for the preparation of SSC exams. In today's world of competition, we understand the need of the hour and prepare our students in the best possible ways to meet the challenges.
What Is SSC?
Staff Selection Commission (SSC) is a body under the Indian government which conducts various exams for recruitment to various positions in government offices and departments.  Here is a list of some popular exams conducted by SSC every year:
Combined Graduate Level Examination (CGL)
Combined Higher Secondary Level Examination (CHSL)
Multi Tasking Staff (MTS)
Junior Engineers Examination (JE)
Stenographers Examination
Junior Hindi Translator (JHT)
The syllabus and eligibility criterion is different for every exam. The cut-off and pattern of these exams vary every year. A lot of candidates appearing for these exams with only a limited number of vacancies take the competition to the next level. This highlights the need for SSC coaching to crack these exams.
Why Choose Bidyasagar Classes?
There are a number of reasons which make Bidyasagar Classes the best choice for SSC coaching in Bhubaneswar:
Excellent Results and Proven Track Record
Bidyasagar Classes has a splendid track record with our students making us proud by scoring high ranks every year. We have received many awards and recognition by the government and various organizations. The success of our students proves us as the best institute for SSC Coaching in Bhubaneswar.
Regular Practice Through Mock Exams
We conduct mock exams at regular periods which are based exactly on the same pattern as that of the actual exam. Our tests contain the most important questions that have occurred in the exams of previous years. We provide our students with a complete analysis of their performance in the mock exams so that they can know where they need to improve.
Learning at Your Convenience
We have different batches for students as well as working professionals. You can select the batch timings which suit you the best according to your convenience. We also provide distant learning programs through our mobile application for the students living away from Bhubaneswar. You can get the best SSC coaching at your place while being in your comfort zone.
Where Can You Find Us In Bhubaneswar?
Our centres are located at almost all corners of Bhubaneswar. You can choose the centre where you find it most convenient for you to come. We offer SSC coaching at our centre at Jayadev Vhiar Bhubaneswar.  we will guide you in the best way towards your goal.
What Sets Us Apart From Other Coaching Institutes?
Affordable Fee Structure
Our fee structure is affordable and inexpensive, which is inclusive of all the study material and lifetime access to our online mock tests. We understand the value of education and do not aim for profits, unlike other coaching institutes who consider education as a business and charge high amounts from the students for coaching.
Experienced Teaching Faculty
We have highly experienced and qualified teaching experts for different subjects. Our teachers are committed to providing the best quality education to our students and guiding them for their all-round development. You can clear all your doubts and queries from our experts and get all the assistance you need for the preparation of exams.
3. Personalized Study Material
Bidyasagar Classes has its own publication house with the name of KD Publication. It produces quality study material for the students to give them a good understanding of the concepts. Our study material is based on the latest syllabus and provides you with all the content you need for exam preparation
4.Efficient Problem-solving Tricks
At Bidyasagar Classes, you can learn the best tips and techniques to save your time while solving problems. With the use of these tricks, you can solve the questions easily in a quicker manner, without having to worry about the time constraint. It improves your efficiency so that you can attempt all the questions in the exam with confidence.
5.Demo Classes Without Any Cost
We conduct special demo classes for the new students completely free of cost so that they can get an insight into what they will be offered in our course. We give them an idea of the amazing learning experience they can get at our institute. This helps them in making the right decision by enrolling in our course with confidence.
Bidyasagar Classes – Leading the Field Of SSC Coaching
Bidyasagar Classes is an unmatched name when it comes to getting the best SSC coaching in Bhubaneswar. We provide you with the best facilities and top quality services. Our support team is always active to provide you with all the guidance you need. You can get in touch with them to get all the details about our courses and clear your doubts and queries. Our team will help you out in the best possible ways.
Bidyasagar Classes has emerged as the best SSC coaching institute in the region of Bhubaneswar. Visit any of our institutes and experience the change. We make sure to give an extra edge to your SSC preparation and give a boost to your confidence required to crack the exam. With our dynamic methodologies and competitive environment, you can get yourself ready to face the challenge of exams and succeed with flying colors. Register with us today and get one step closer to your goal.
Our Features
Our exceptional features distinguish us from the rest of the crowd. We have the best of everything assembled together to deliver finesse results.